Welcome to Zero Escape Wiki

The encyclopedia focusing on the Zero Escape series which anybunny can edit!

---
SPOILER WARNING
This wiki contains unmarked spoilers! Finish all three games first before reading a SINGLE article!
Do not read the article for each individual game or character articles.
Only the 45 escape room articles (to assist first-time players) and Zero Escape article are spoiler-proof.

---
This wiki covers violent and disturbing content and is intended for mature readers.
About • Manual of style • Recent changes • Forum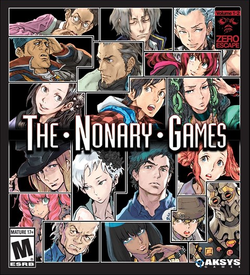 Zero Escape: The Nonary Games
Zero Escape: The Nonary Games is a bundle containing a remastered version of Zero Escape: Nine Hours, Nine Persons, Nine Doors and Zero Escape: Virtue's Last Reward for the PlayStation 4, PlayStation Vita / PlayStation TV and PC on Steam.
In North America, Aksys Games released all three versions simultaneously on March 24, 2017. In Europe and other regions, both the PC version and PlayStation 4 digital version were released on March 24 -- release dates for the physical PlayStation 4 version, and digital/physical Vita versions are unknown.
The Nonary Games is essentially the definitive way to experience both 999 and Virtue's Last Reward. The original Vita version of Virtue's Last Reward remains on PlayStation Store, although The Nonary Games version is recommended over it.
The Nonary Games makes Vita and PC the only platforms capable of playing all three versions of the game (counting the 999 remaster), since there is no PS4 port for Zero Time Dilemma currently, although Nintendo 3DS owners can still play the original DS version of 999 without the remastered features.
Create blog post
Recent blog posts
Amino

I'm sure a lot of you have heard of Amino- well, there is a Zero Escape Amino dedicated to Zer…

Read more >

I've begun posting ZTD fic on archiveofourown.org, under the name GrumpiestCat.  If anyone is inter…

Read more >
See more >

Junpei:
A woman...something with a pointy tip...an upside-down butt... Hm...

Snake:
Ju-Junpei! What on Earth are you talking about?

Junpei:
Oh, uh, well...um...

Junpei:
Well, when I turn on these lights, they make these shadows on the canvas.

Junpei:
They look like...well, like what I just said.

Snake:
A woman, something with a pointy tip, and...an upside-down butt...?

Junpei:
Yeah...

Snake:
It sounds like a rather sensual shadow-play.

Junpei:
N-Not really...
To write a new article, just enter the article title in the box below.
Ad blocker interference detected!
Wikia is a free-to-use site that makes money from advertising. We have a modified experience for viewers using ad blockers

Wikia is not accessible if you've made further modifications. Remove the custom ad blocker rule(s) and the page will load as expected.