Welcome to Zero Escape Wiki

The encyclopedia focusing on the Zero Escape series which anybunny can edit!

---
SPOILER WARNING
This wiki contains unmarked spoilers! Finish all three games first before reading a SINGLE article!
Do not read the article for each individual game or character articles.
Only the escape room articles (to assist first-time players) and Zero Escape article are spoiler-proof.

---
This wiki covers violent and disturbing content and is intended for mature readers.
About • Manual of style • Recent changes • Forum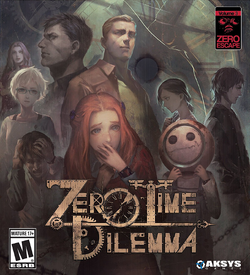 Zero Escape: Zero Time Dilemma is the third and final installment of the Zero Escape trilogy and sequel to Zero Escape: Virtue's Last Reward. It is developed by Spike Chunsoft and published by Aksys Games in North America and Europe.
It was released for the Nintendo 3DS, PlayStation Vita / PlayStation TV, and PC on Steam in June 2016. The game is digital download only for Europeans. All versions of the game feature English and Japanese dual audio.
The game's genre is a mix of psychological horror, mystery, suspense and thriller. The gameplay is a mix of escape-the-room and puzzle.
The story primarily follows three people: a nurse named Diana, a firefighter named Carlos, and a boy with a spherical helmet named Q. The three protagonists are trapped in a facility along with six other participants. The nine are forced to participate in the Decision Game, a deadly game which involves bracelets that inject them with a drug every 90 minutes which induces memory loss, killing 6 out of the 9 players, exploring the facility and solving escape-the-room puzzles in order to survive and escape, and figuring out the truth behind the game and Zero's identity.
Create blog post
Recent blog posts
I've begun posting ZTD fic on archiveofourown.org, under the name GrumpiestCat.  If anyone is inter…

Read more >

Someone made a fangame of the prequel to ZTD to download it, https://drive.google.com/file/d/0B0bym…

Read more >
See more >

June:
Jumpy, you lit the candle.
Junpei:
Yeah. You want me to light your heart on fire?

June:
...
Junpei:
...

June:
Jumpy... Don't quit your day job, okay?
To write a new article, just enter the article title in the box below.