Welcome to Zero Escape Wiki

The encyclopedia focusing on the Zero Escape series which anybunny can edit!

---
SPOILER WARNING
This wiki contains unmarked spoilers! Finish all three games first before reading a SINGLE article!
Do not read the article for each individual game or character articles.
Only the 45 escape room articles (to assist first-time players) and Zero Escape article are spoiler-proof.

---
This wiki covers violent and disturbing content and is intended for mature readers.
About • Manual of style • Recent changes • Forum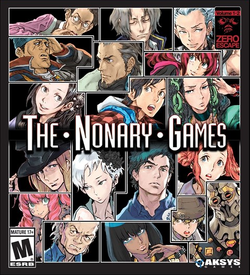 Zero Escape: The Nonary Games
Zero Escape: The Nonary Games is a bundle containing a remastered version of Zero Escape: Nine Hours, Nine Persons, Nine Doors and Zero Escape: Virtue's Last Reward for the PlayStation 4, PlayStation Vita / PlayStation TV and PC on Steam.
The Nonary Games is essentially the definitive way to experience both 999 and Virtue's Last Reward. The original Vita version of Virtue's Last Reward remains on PlayStation Store, although The Nonary Games version is recommended over it.
Create blog post
Recent blog posts
Here's a great remix of two Zero Escape songs.

https://www.youtube.com/watch?v=uXrDH8azMmI

Read more >

Amino

I'm sure a lot of you have heard of Amino- well, there is a Zero Escape Amino dedicated to Zer…

Read more >
See more >
The chandeliers hang, chandelier-like, from the ceiling.

Junpei:
That hat makes you look like you've got candle-ears.

Junpei:
No, take that back! You're a chandle-liar!

Snake:
Junpei, why do you talk to yourself so frequently?

Junpei:
...
To write a new article, just enter the article title in the box below.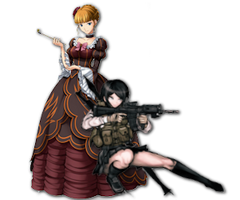 Visual Novel Games
Go to these sites for info or for help with your own wiki!
Ace Attorney • AliceSoft • Danganronpa • Date A Live • Higurashi no Naku Koro ni • Steins;Gate • TYPE-MOON • Umineko no Naku Koro ni • Zero Escape
Want your community included? See how!