Welcome to Zero Escape Wiki

The encyclopedia focusing on the Zero Escape series which anybunny can edit!

---
SPOILER WARNING
This wiki contains unmarked spoilers! Finish both games first before reading a SINGLE article!
Even the names of articles are spoilers! Only the escape room articles are spoiler-proof.

---
This wiki covers violent and disturbing content and is intended for mature readers.
About • Manual of style • Recent changes • Forum
Chromatic Doors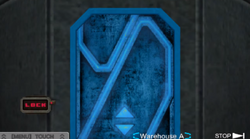 Chromatic Doors are doors that lead to the escape rooms in Zero Escape: Virtue's Last Reward. There are 9 different varieties of them in total: Magenta, Yellow, Cyan, Red, Blue, Green, and White. Only solos or pairs who have bracelets that match the color of the door may go through them at first, but after clearing the escape room behind the door, any player may freely go through them. Just like the Numbered Doors, they have a huge impact on the participants' fates.
Create blog post
Recent blog posts
A video posted on Uchikoshi's twitter today shows at the end ZTD with the T as a Clover. I was just…

Read more >

This picture is from the true ending after everyone re-enter the facility on floor B. Tenmyouji STIL…

Read more >
See more >
Clover:
Heeeeeeeey! Knock that off!
Junpei:
Yeah, yeah, I know...
Junpei:
I just feel kinda bad for leaving Science Boy in there to die...
Clover:
Whaaaaaaaa?! The MANNEQUIN!?
Clover's eyes are kinda freaking me out right now. Maybe I should just give up on the mannequin...
To write a new article, just enter the article title in the box below.